INVEST IN THE WOMAN YOU WANT TO BECOME
Real Results
INVEST IN THE WOMAN YOU WANT TO BECOME
Real Results
To all the girls and guys who keep reading reviews, yes you, reading this now… DO RANDIS PROGRAM!!!
Having Randi as a coach has been a blessing! The program is easy to follow and SO informative.
I've done a couple of her programs now and have had significate results each time. Randi focuses on your needs such as food sensitivities and is always there by your side if you need her help to more understand what it is your doing for an exercise or simply understanding your body better when it comes to food. Most importantly she keeps you accountable! By sending in your bi-weekly photos you get to see how well you are doing and if you feel you don't have the results you thought you can work together to see what might not be agreeing with your body.
To summarize; I gained confidence in all aspects of my life, I cut cravings and found new food I love and are equally as satisfying, I can still drink my wine, my sleep is better and my anxiety is a little more under control.
Allison
Before I had my second baby, I couldn't wait to take some time for myself and work on getting back into shape. Once I had him, I found it hard to get motivated as I was sitting around a lot with a newborn. I was craving a routine, but I found that taking the time for myself and my selfcare was put on the back burner.
I started up with Randi when my son was 12 weeks old. Making my physical health a priority and structuring in workouts has improved my mental health as well as I feel better about myself and I can take that hour and focus solely on my and my personal growth. I am a more patient mama as well when I am taking care of myself. I am slowly learning that I deserve this time too and I am so proud of what my body has done to carry two healthy babies and I'm so proud to see the changes I've made in five months. Randi holds me accountable but is also so understanding if I make mistakes. She is endlessly encouraging me and the other ladies she inspires, and is a wealth of knowledge. I owe so much to Randi as a friend and coach, and I'm so excited to see what is to come!
Brittany R
I found Randi on Instagram five years ago when I decided to become healthier and fit. At first, I wasn't sure what to expect and being a sugar addict the first few weeks were tough to control the need to have something sweet after lunch, but I was committed and with time not only I did not crave any sugar, I was overall making healthier choices for myself without even thinking. The progress I made weekly was impressive and it made me more confident and happy with myself mentally and physically. Randi helped me not only get in shape for my wedding but to inspire in me a passion for fitness I did not know I have.
Fast forward five years and after struggling with my health, severe knee pain and being diagnosed with IBS, I decided to contact Randi again to help me get back to the mentality she put me in all those years back as I knew she was the only one that could do it for me, and she did indeed! We worked together for 5 incredible months and in no time I was running 5k almost every day, something I never thought I would be able to, but most of all I was just happy being able to sleep without feeling any pain on my knees. Randi helped me find the strength to get back out there and work on myself, helping boost my confidence and mentality whilst respecting my limitations and pescetarian diet. I don't think I could ever thank her enough and hopefully, we can work again together sometime in the near future. x
Carol F
I started my fitness journey 5 years ago. I have gone to Orange Theory, Pure Barre and CrossFit. I have tried Weight Watchers, Keto, and a ton of other weight loss programs, but they never gave me exactly what I wanted. I wanted to be able to EAT, NOT STARVE myself, I wanted to GAIN MUSCLE and look fit and strong.
I was going to the gym 4 days a week, but nothing seemed to work… until I decided to bring the professional in! Randi was very motivational, helped me determine what macros best fit MY body, not just something that was supposed to work with everyone…. because it doesn't! She helped design workouts for me to gain muscle and still incorporated my Peloton! She was always available for me if I had any question or needed motivation. I would highly suggest using Randi Kennedy for your fitness journey!
Katelyn G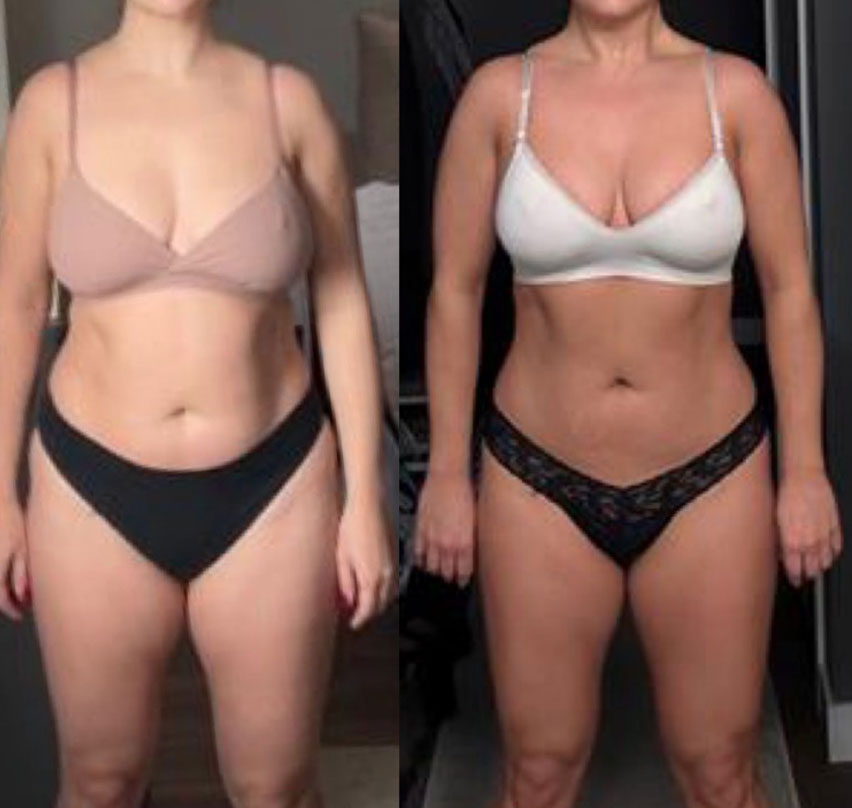 If you want to get skinny and love standing on the scale, this is not your program. If you want, body recomposition and growing a lean muscle, this is your program. This is a program where you're going to learn key elements to healthy lifestyle. You're going to get stronger both physically and mentally. Randi was an excellent coach she created, balanced workouts. They were both educational and challenging And her nutrition strategy allowed me to educate myself on nutrition, and become less fearful of food.
Adrienne S
MEET YOUR COACH
Randi Kennedy
---
When I first started my fitness journey I was in search of a healthy lifestyle that made me feel good from the inside out. I wanted to feel proud and confident. 
At the time I was 18 years old and quite petite. I wanted to learn how to build muscle and how to eat according to my goals.
Sadly most of the information available to women at the time (I'm looking at you Women's Health & Cosmopolitan Magazine, circa 2012) was geared towards cardio, bodyweight style workouts and tons of fad dieting approaches. I was confused and had no idea where to start. Years later, I wanted to lose weight. I tried multiple dieting approaches that were both extreme and restrictive, because that's what I thought it took.
Read more...